Open Hours Program
Every weekday we welcome visitors from Toronto and around the world. We try to be a place of hospitality and community where people of diverse faith, sexuality, gender, health, and abilities are welcomed to just "be".
On some days and at some times of year there are organized events and programs during the day such as concerts, weekly eucharist, art exhibits, and others. At most times though, the space is simply a place to visit out of curiosity, need for peace or prayer, or simply a place to be.
A variety of more impromptu activities happen in the space during this time, including karaoke, art projects, chess and puzzles. Often volunteers are available to offer a listening ear for anyone who needs it, whether in crisis, isolated, in need of spiritual renewal, or just companionship. We have occasional guest musicians who perform for whomever is present, and in the summer months these moments sometimes spill into Trinity Square. It is often a place to meet like-minded people and become connected with justice-seekers active across the downtown.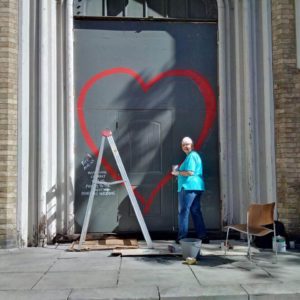 While we are not a drop-in, we are mindful to maintain our welcome also for the most marginalized in our community, individuals living on the street in or around Trinity Square. We welcome visitors into a shared responsibility for the space. We try to connect community members with resources and services that support their health and well-being, as well as work to build resiliency, especially around expressions of anger and respect and affinity with others.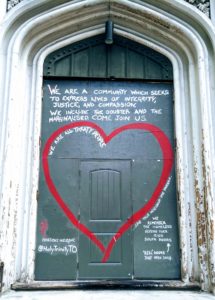 As a simple Open Hours program, there is a low barrier to participation, which allows for an integration of individuals who hear voices, are living with the impacts of trauma, and other forms of neurodiversity. Visitors can be present without needing to be a part of any programming that is happening, and our programming is flexible enough to incorporate the occasional interruption with grace and understanding. We hope that this will be a space where relationships can be built across economic, cultural, and other lines to make for a better community for all.
Our Church space is a place of beauty and history and we are proud to provide something so valuable and welcoming to all, and we work to create a crossroads of people in the second-oldest church space standing in Toronto.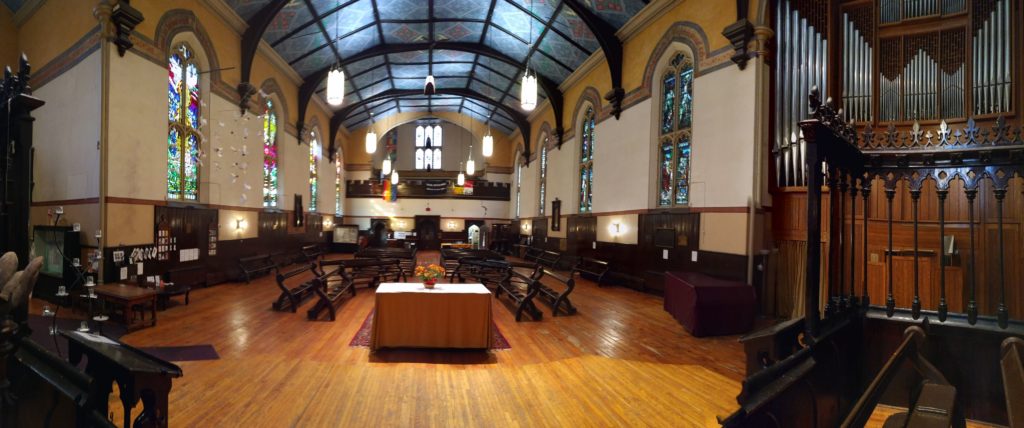 People Presence Committee
Our People Presence committee is dedicated to providing a radical welcome and hospitality to the life of our Parish and all of its guests. People Presence volunteers support our Open Hours, as well as our Sunday breakfast and lunch program, and other needs of community events throughout the year. They work to make sure that as we receive people who visit Holy Trinity for a variety of reasons, they are greeted with love and welcome. Some come for a time of prayer and contemplation, some a listening ear, others to tour the beautiful historic building or just to rest.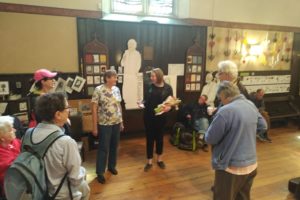 The People Presence committee over time has contributed time to producing a self-guided tour of the parish and its history in several languages for tourists. We are hoping that this will continue and that printed guides will be translated into more languages to increase our ability to greet our visitors.
---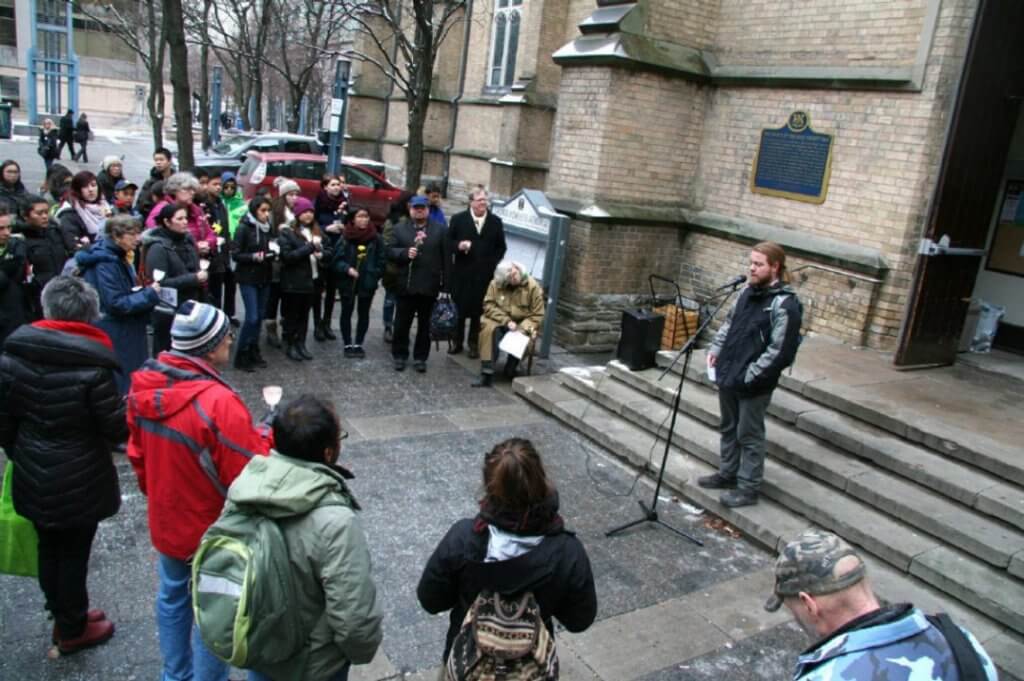 Homeless Memorial
The Toronto Homeless Memorial remembers those who have died as a result of homelessness in Toronto. This project is maintained by Holy Trinity and a committee that supports its activities.
A memorial service is held on the second Tuesday of each month at 12:00 PM outside the south door of Holy Trinity. Each month, the names of those who have died most recently on the streets of Toronto are said out loud, added to the memorial and those who wish to remember their friends or loved ones are invited to share their words with the crowd.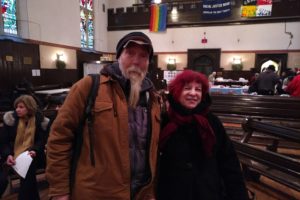 After the memorial, a lunch is served by volunteers to all in attendance. It has become a space of welcome and sanctuary, especially in this time of heightened deaths due to the ongoing drug poisoning epidemic gripping our city.
Holy Trinity is priviledged to host the Homeless Memorial which draws together unhoused people, artists, musicians, activists, service providers, community organizations, and faith leaders to witness to the toll of our city's housing crisis and to call for change.  Sadly, the 1000th name was added to the Memorial in January of 2020.
---
Refugee Committee
Holy Trinity has a very active refugee ministry. Since 1991, our congregation has sponsored over 130 refugees fleeing persecution and violence in Afghanistan, Burundi, Cambodia, El Salvador, Ethiopia, Iran, Iraq, Kosovo, Rwanda, Sierra Leone, Somalia, Colombia, Sudan, and elsewhere. We have provided refugees with our financial, emotional and social support; helping and celebrating them as they land and navigate a new city and country. We are currently sponsoring a mother and son from Afghanistan and hope to continue to expand the welcome to this and other families.
Our Refugee Committee is one of the best fundraising bodies of Holy Trinity, by encouraging our community's participation in an annual book sale and in the Scotiabank Charity Run/Walk.
---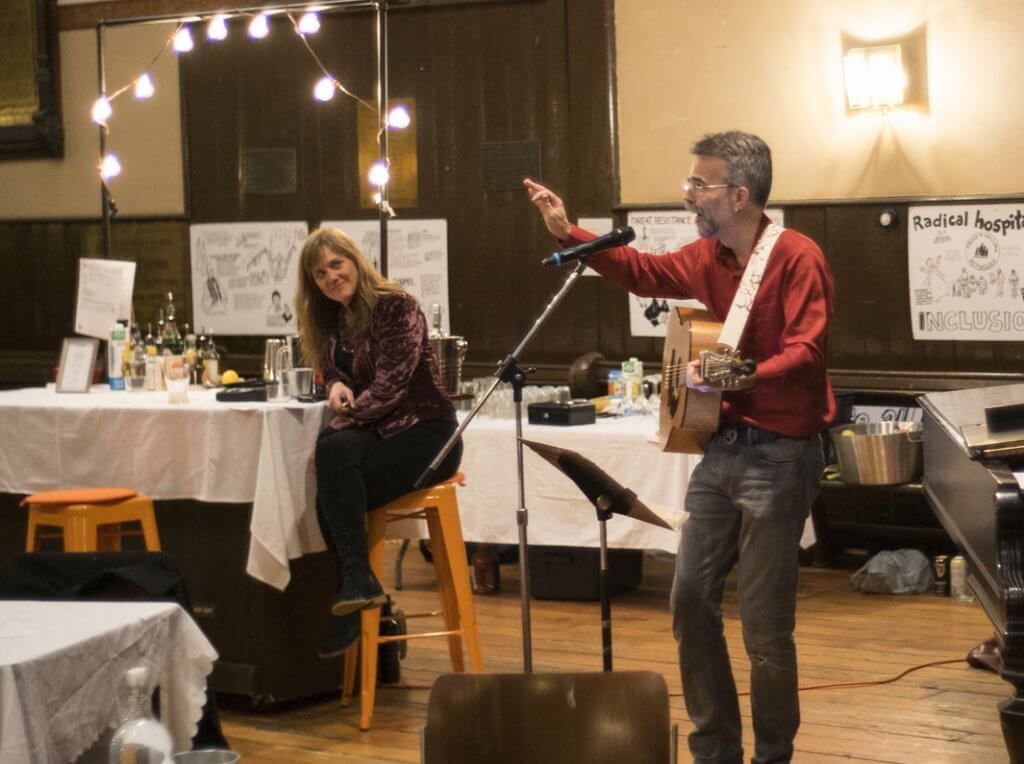 Lifting Spirits
Once a month, we set up a bar and cafe in the middle of the church and open the doors to anyone who wants to wander in for a drink and to connect with neighbours in a hopeful way. There is a light menu, seasonal cocktails and at 7pm we join in pub choir to sing the sacred and profane. We welcome anyone of any faith and of none for a low key, pay what-you-can event in this sometimes frantic city.
---
Youth Ministry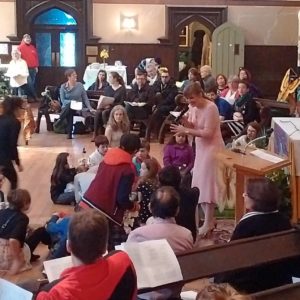 As we have fewer and fewer youth in attendance at Holy Trinity, we initiated an informal youth ministry that brings our core participants together during and after church on Sunday afternoons once a month to be in relationship with one another. Our Youth Ministry coordinator invites our young people to take part in activities like a local Camino, swimming, crafts and others to be a platform for faith and justice development. For youth interested in being confirmed, we are currently working to develop a community-based model for confirmation preparation using the wisdom and guidance of our congregation members. Children and youth ministry is a space we would like to grow in.
---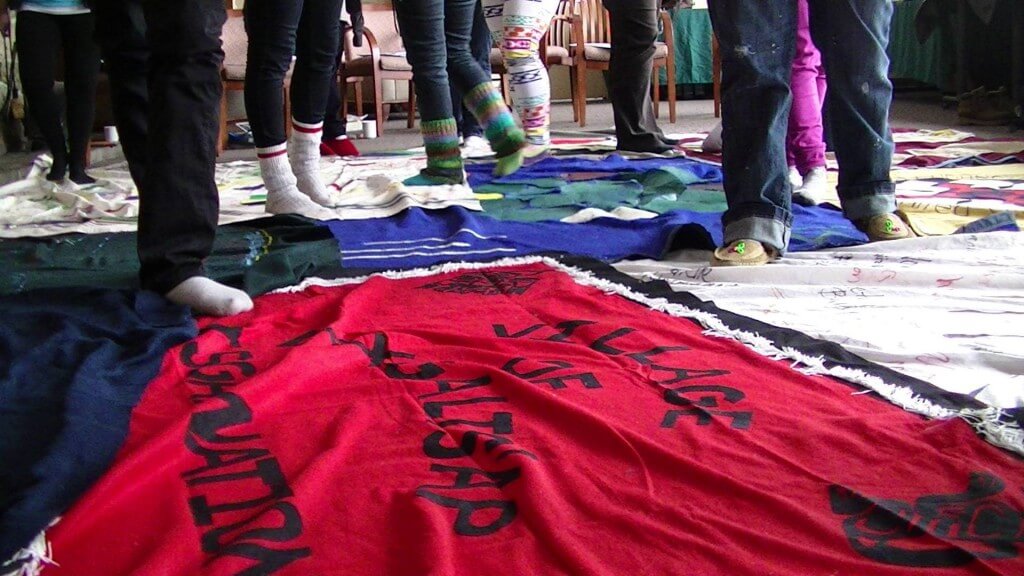 Treaty People Commitment
Our Treaty People commitment is to carry out the Calls to Action of the Truth and Reconciliation Commission. As part of this commitment, we hold occasional events and activities to collect our thoughts, educate ourselves, and plan for action. We have had art installations and other creative liturgical undertakings related to the theme of reconciliation that have helped us make visible and tangible this commitment. We hope to find our way to action and change within our community to embody our hope for reconciliation between Settler, Indigenous and Diasporic communities living on Turtle Island.
One of the recent ways we have done this is by inviting Toronto Urban Native Ministry to take up offices in our spaces. We have made a commitment to subsidize their tenancy and encourage their work and ministry in the community. We hope that this relationship will continue to grow and help us transform our worship, action and daily life.
---